9/29-2 Egyptians removed bomb left by Chelsea bomber
"Two men seen removing an unexploded bomb from a wheeled duffel bag left on the street by the Chelsea bomber have been identified by the FBI. Officials say the pair are both Egyptian pilots who have since left the U.S., presumably to return to Egypt, ABC News reports.....
9/26/****Truth about Seattle Washington MALL Muslim killer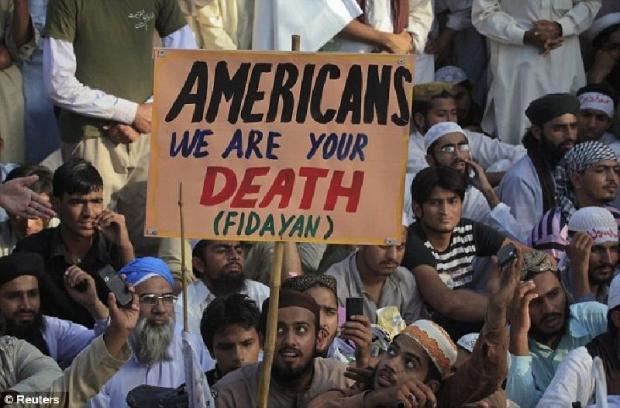 "At a news conference, officials said they had not ruled out any possible motives for why 20-year-old Arcan Cetin allegedly shot four women and one man at the Cascade Mall in Burlington Friday evening." He is a Muslim, but who will dare report this?
Click here-This same Muslim non-citizen terrorist voted in 3 federal elections illegally in the state=most recent sign of massive voter fraud
First time in history and the bravery shows!
Click to see the truth from those who are trying to protect us
500 Billion dollar immigration/refugee tax on Americans
new Sept. 22 immigration study was funded by the pro-immigration
John D. and Catherine T. MacArthur Foundation
.
The jargon-filled, much-caveated,
495-page report
does show the information needed to measure how legal and illegal immigration
transfers $500 billion a year
from the wages paid to working-Americans towards companies, firms, Wall Street investors and to new immigrants. But the report does not provide a dollar figure for the 'immigration tax.'
Deep in the report, but not in the press release, it shows how each new unskilled immigrant costs state and local taxpayers
$1,600 per year
. It shows how the annual cost of legal and illegal immigration to state and local taxpayer is
at least $57 billion
, and that each unskilled immigrant is a net loss to taxpayers for the next 75 years.
Deep in the report, it says that state and local taxpayers lose at least $57 billion per year hosting the current wave of legal and illegal immigrants, because the migrants can't earn enough money or pay enough taxes to fund the various benefits they and their children get from American taxpayers.
Officials at a prestigious private D.C.-based think-tank are trying to hide their data showing
how immigration is imposing massive costs on wage-earners and on taxpayers
.Hundreds of pages inside the report, but not in the summary, it shows that the latest wave of legal and illegal immigrants
aren't integrating
to the U.S. economy as fast as prior generations, and sit hows that only university-trained foreign migrants can pay their way in the United States by taking white-collar jobs sought by
university-trained Americans
. Low-skill immigration results in a net cost for taxpayers, while high-skill immigration produces a net gain"
***9/24-At least 5 Americans killed in Seattle mall by "suspect"
Dangerous Refugee Plans hatched by Obama and UN
"The Obama administration cannot even properly handle immigrants due for deportation who are already in the country. How can we possibly believe that it can reliably vet individuals from Syria and other terrorist infested countries where comprehensive accurate data regarding such individuals are sorely lacking?

For example, according to a report released on September 19th by the Homeland Security Department's inspector general, hundreds of immigrants were improperly granted citizenship despite missing fingerprint records. They were from "special interest countries" – countries of particular concern for national security reasons.
The Department of Homeland Security (DHS) Office of Inspector General (OIG) released a report on September 8. 2016, that found at least 858 individuals that had previously been ordered deported or removed from the country were mistakenly granted citizenship under a different name because their digital fingerprint records were not available. These individuals have not been investigated or denaturalized. (

i.e. They will not fix this"mistake".....nothing will be done to stop these illegals or criminals from enjoying US citizenship status and benefits!)
Nevertheless, President Obama is making the admission of more refugees and migrants his going away gift to the American people. He has announced that the United States will welcome even more refugees from around the world, increasing the number of people the U.S. receives by 40 percent over the next two years, to 100,000 in 2017. He also wants to admit more Syrian refugees in particular, which Hillary Clinton has already announced she would do if elected president.
Obama's problem, however, is that when he talks about "shared security" and "collective responsibilities,"
he glides over the first priority of the leader of any nation including his own – the security of its people.
The Obama administration is simply incapable of ensuring that refugees resettled in communities across the United States do not pose terror threats. And Obama surely failed to provide such assurance when he bizarrely stated at his Leaders Summit on Refugees that"refugees are subject to more rigorous screening than the average tourist."
Not exactly a high bar to exceed.
NO CHRISTIAN REFUGEES

-
Liberals have often used this false analogy of Syrian refugees to Jewish refugees escaping Nazi genocide. Ian Tuttle answered it with devastating precision in a
National
Review article
last November:
"There was no international conspiracy of German Jews in the 1930s attempting to carry out daily attacks on civilians on several continents. No self-identifying Jews in the early 20th century were randomly massacring European citizens in magazine offices and concert halls."
Moreover, Christians constitute a religious minority in Syria and elsewhere in the Middle East who have been the amongst the most targeted victims of religious persecution and genocide. Yet President Obama has sharply criticized the suggestion that persecuted Christians be given preference for admission as refugees. Only about 1 percent of the total number of Syrian refugees admitted to the United States are Christian. Since the beginning of the Syrian conflict, approximately 96% of the Syrian refugees admitted to the United States by the Obama administration have been Sunni Muslims...It would make far more sense for Muslims displaced by the war in Syria to resettle in countries in their own region where they are more likely to assimilate into the majority Muslim populations. And they would be closer to their homes in Syria, so that if conditions improve sufficiently they can more easily return safely. "
Obama's final 'determination' sent to Capitol Hill a week ago calls for a ceiling*** of 110,000 refugees from all over the world for Fiscal year 2017 which begins in 8 days. He did not indicate how many of those would be Syrians but recently we learned that 20,000-30,000 would likely be Syrian Muslims.
Hillary's choice of Tim Kaine reveals her intentions as president to continue the Obama policy of promoting the Muslim Brotherhood and Iran and betraying Israel. The choice of Kaine also reveals Hillary's reckless disregard for homeland security. She has chosen a man who is willing to cozy up to well-known terror-promoters here in America in exchange for cash.
T
he media wants us to think Donald Trump is dangerous. This is the face of danger: Clinton-Kaine, importers of "jihadi" terror to America.
...